AT&T is rebranding its existing 4G network as "5G E" or "5G Evolution" It is 4G but AT&T wants' to argue that it is close enough. In the mobile world a "G" normally means a compatibility break. People will need new phones and new base stations.
There is a back-story here. Some years ago during the 3G/4G transition, Sprint and Verizon switched to arguably better 4G technologies (LTE and WiMAX) before AT&T and T-Mobile did. That was because they had hit dead-ends in their 3G technologies, while AT&T and T-Mobile had more 3G runway left go.
To prevent from being left behind in the marketing race, AT&T and T-Mobile arm-twisted the standards bodies to get HSPA+, a form of 3G, declared as 4G, which most people still consider one of the shadiest things ever done in wireless technology. We're seeing that again with 5G E. Don't buy into the fake news!
This is going to be big!
5G is going to be a massive game changer. Like the Internet changed the world 5G is going to be that kind of a change again. When the Internet first started many of the devices that are common today hadn't even been invented. Back then the idea of a computer in every house in the country was unimaginable now the inverse is almost unimaginable.
When High Definition TV first came out there we had very few channels that were HD capable and they had very few HD programs to offer. Today HD is everywhere and 4X has become the standard
Worldwide communication and a wealth of information at your fingertips through a handheld device was the stuff of science fiction. Now parents won't let their kids out of the house without their phone. And that phone has capabilities way beyond the old Star Trek Tricorder.
Right now the idea of an IOT, (See my Newsletter from January 2017 on the Internet of Things.) connected world is beyond most people's comprehension. Twenty years from now people will wonder how we ever managed to survive without it. Manufacturing became a whole new "ball game" with the introduction of robotics. 5G is going put the manufacturing industry through that kind of a change again.
In the medical world doctors can effectively treat patients from just about anywhere. Recently a doctor made headlines when he performed brain surgery on a patient who was thousands of miles away. Across town, across the state or on the other side of the planet the specialized medical treatment is available everywhere. Patients need not to travel, often vast distances, to receive specialized care at one of the few advanced medical centers that can provide that service. It will seem strange that people once had to spend week or months away from home for medical treatment.
The 5G revolution is going to change the world in ways that we cannot yet comprehend. Advanced mobile phones are only a small part of that picture.
What do we need to make this happen?

The first step is fiber! While the last mile may be wireless almost all communications, (including wireless) end up going through landlines. With the massive amounts of data being transmitted the backhaul for all these data bits needs to be fiber optic. Copper just won't cut it.
Many more 5G sub stations and base stations with 5G-NR radios need to be installed and connected to the Internet. Many more smart antennas need to be connected to theses station. The high frequencies are directional. That is the "beam" can be aimed in the direction of the device. That makes the system more energy efficient because we are not wasting energy transmitting over a broad area. Antenna design and placement will be very important for good service.
Many more 5G capable devices, some of which haven't even been designed yet. Right now there are very few 5G devices available but that will change by the end of 2019.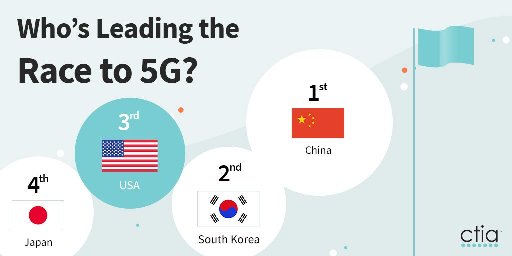 The race to 5G halftime report!
It's a brave new world of 5G!

Many countries are competing for dominance in the race for 5G. Some of them are adversarial towards the US. Right now China has the lead and companies like Huawei, (the third largest maker of smart phones) and ZTE have the support of the Chinese government. In fact they are part of the Chinese government. While in this country the FTC is taking Qualcomm to court claiming they are a monopoly.
It started when Qualcomm said their wireless modem was worth $13.00 each but would sell it to Apple for $7.50 each. Apple wanted to pay 1.50 each and then balked at that and offered $1.00 each. (Remind me again how much the iPhone costs!) The case went to court and Qualcomm won. However the judge did decide that Qualcomm had to offer licensing for the patent on the modem. So Intel now makes the modems, (under license from Qualcomm) for Apple's iPhone
Then the FTC comes along and takes Qualcomm to court alleging anti competitive practices. Sighting both Apple and Intel as the poor suffering companies that had been damaged by Qualcomm's control of the market. The case is being argued in front of the same Federal Trial Judge, (Judge Koh).
Since Intel is a much larger company than Qualcomm and Apple is a very much larger company the idea the Qualcomm is the monopoly is hard to swallow. And since both Intel and Apple have a history of anti competitive practices the question arises what is the FTC doing? That case, in the 9th Circuit Court closed on January 31, 2019 and we are awaiting the Judge's decision.
The race for 5G is a race we don't want to lose yet recent activities do not bode well for the US. Meanwhile the Chinese are going full speed ahead. Also it is important to note that Hauwei, (the world's largest maker of telecommunications equipment) has about half of the patents currently held for 5G devices. Patent wars are going to be the death of us all!
Whoever wins the 5G race will dominate politically, economically and militarily!
Health risks of 5G:
There have been calls to stop the rollout of 5G until more studies can be done on the possible risk to human health. I suspect that we could conduct such studies until the second coming and these people would still not be satisfied.
While there are some reputable people and organizations doing research they don't get a lot of headlines. One of them is Swinburne University in Australia. You can read what they say about 5G here https://medicalxpress.com/news/2019-03-5g-health.html.
Other reports that I have seen and the claims that have been made certainly do not merit serious scientific consideration. If you live or work in a large city you have been irradiated by small amounts of RF energy for many years now. But the level of exposure is quite small and that is the important part.
A cup of coffee can be a great way to start your day but a hundred cups would probably kill you. How many things can you think of that in small amounts are harmless, benign or even helpful but in larger doses can cause serious, even fatal results? If you drink too much water in a short amount of time it can kill you as one not-so-bright DJ in California found out. Maybe we should halt the distribution of bottled water until more research can be done.
The World Health Organization has determined that RF radiation is a possible carcinogen. Such determinations do little to raise my concern about RF radiation but only further test my faith in that organization.
However if you are still worried about the possible negative effects of cell phones you can line the walls and ceiling of your home with fine copper mesh. Have all your food and supplies delivered to you and get an old fashioned land line with a desktop phone. Never go outside unless you are wearing a full chainmail suit and then only at night. Welcome to the Tinfoil Hat Brigade!
Other related links:
Apple https://www.apple.com/
Hauwei https://www.huawei.com/
Intel https://www.intel.com/
Qualcomm https://www.qualcomm.com/
ZTE https://www.zte.com.cn/