Moving your electronics can be a very "moving" experience, in more ways than one!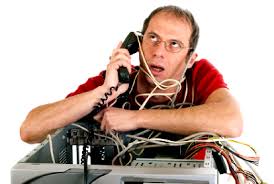 When it comes time to move, whether it's to a new country, state, city or just a few blocks moving your delicate electronics can be problematic!
Take pictures of the connections and make detailed notes on what cables and connectors go to on each device. A few pieces of colored tape can be a big help when re-assembling. You can write notes on the tape like, "second monitor goes here". Use different colors for TV, PC or speakers and try to keep all the parts and accessories to each device together. Don't forget to label everything, every box.
Printers and scanners can be exceptionally delicate. Often they are shipped from the manufacturer with special blocks and restraints to prevent damage during shipping. Remove the ink cartridges or toner to prevent spillage. If you still have any of these pieces use them. Otherwise pack it with newspaper, towels, blankets or pads. Box, tape or shrink wrap everything as best you can.
Do not use "peanuts", those Styrofoam bits can develop a considerable static voltage which could damage fine electronics.
Some movers specialize in shipping electronic hardware and furniture. If you have a lot to move it is usually a good idea to hire professional movers. If you decide to do it yourself get ready for a workout!
When you get to the other end and everything is still in pieces let the components warm up to room temperature before you start putting it all back together. Allow the temperatures to stabilize before you switch the power back on.