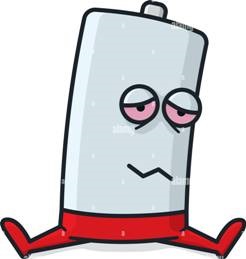 Another reason is side reactions within the electrolyte that form compounds that "trap" the ions further reducing the number of mobile ions.
Research on ways to extend the life of Li-ion batteries continues. But for now, progress comes in small steps.
Battery temperature and lifespan.
A common misconception is that cold temperatures diminish the life of Li-ion batteries. While it is true that your phone will "die" more quickly in cold temperatures it does not diminish the life of the battery. What happens is the cold temperature causes the shuttling of ions between the electrode to occur more slowly. But when the battery warms up it functions normally with no lasting damage.
High temperatures do cause harm to Li-ion batteries. The electrolyte between the electrodes breaks down at higher temperature and the battery loses the ability to shuttle ions back and forth. This damage is not reversable.
Overcharging
Some people believe that you shouldn't leave your device plugged in once it is fully charged. While overcharging can lead to overheating and a possible fire hazard not to mention the reduction of the battery's lifespan this is more myth than problem. Li-ion batteries have circuitry built into them to prevent overcharging. Once the battery is fully charged the electronic "watchdog" stops charging the battery even if the charger is still plugged in.
Most people never actually power down their phone, they just put it to "sleep" with the display turned off while charging. Since the device is still on and using electricity, the battery may discharge a little and then recharge again while on the charger. Eventually this can add up to a full cycle. The way to get around this is to power down your device before placing it on the charger.
What can you do about a weak battery?
Not much short of replacing it with a fresh new battery. There are web sites that proport to have ways to revive or regenerate your battery. They are a waste of time. I put them in the same class as the web sites that can make you rich, regrow your hair, help you lose weight and other click bait nonsense. The degradation of Li-ion batteries is not reversable.
Remember that Li-ion batteries start to decay from the time they are made. Try to get a replacement from someplace that sells a lot of batteries. You don't want one that has been sitting on a shelf for a long time.