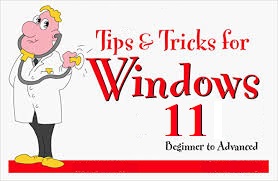 Whether you are a Windows veteran trying to get used to the new look and feel or a first-time user just starting out here are some tips to help you get the most out of Windows 11.
Taskbar
One change in Windows 11 is the Start button, along with the rest of the Taskbar is centered at the bottom of the screen. While the functionally didn't change much some people don't like the positioning. The good news is that you can move the Start button back to the left side, (if you want to).
To move the Start button right-click on a blank place on the Taskbar and click "Taskbar settings". In the "Taskbar behaviors" section under "Taskbar alignment" select "Left" from the pulldown menu. If you are one of those people who doesn't have a blank place on their Taskbar there is another way. Actually, you should probably think about de-cluttering your task bar but I won't make any judgements here.
You can also get to the Taskbar alignment settings by clicking on the Start button, (in its current position) and clicking on the gear icon for settings. Click on Personalization, then on Taskbar and Taskbar behaviors. It will get you to the same place as in the previous instructions.
In the Taskbar behaviors you can also control hiding the Taskbar. The default is off but some people only want to see the Taskbar when they mouse cursor is moved to the bottom of the screen. There are other controls in Taskbar behaviors section that are useful when using multiple displays.
From the Taskbar settings page you can also control what items appear on the Taskbar. Show or hide Taskbar corner icons and control what icons appear in the Taskbar corner overflow.
Enable Dark Mode
Personally, I am not a fan of Dark Mode for most applications but some people really like it. To enable Dark Mode right-click an empty section of the desktop and select "Personalize" then click on "Colors". Under the "Choose your mode" select Dark or Custom from the dropdown menu.
From this page you can also turn the Transparency on or off and change accent colors. If you choose Dark or Custom mode you can also change the color of the start button and Taskbar. You can also select from the Contrast Themes which can be helpful in dealing with low vision or light sensitivity.