I don't know anybody who likes getting Junk Mail?
Unsolicited bulk e-mail,
(aka Junk Mail or Spam) is a four letter word. Those obnoxious, unsolicited e-mail messages touting get rich quick schemes, miracle diets, amazing beauty products and pornographic pleasures is more than just an annoyance. For many companies, or even individual computer users, it can be a costly problem.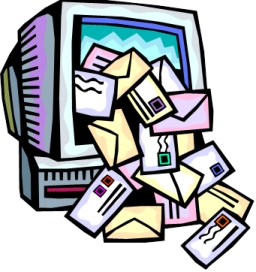 Just the time spent deleting it from your inbox can add up. Consider that a large corporation could have thousands of employees. If each of them spend half an hour a day deleting the spam mail that can add up to a lot of wasted man-hours for nothing. And you, the consumer, are paying for this!

Even an individual can spend a lot of time cleaning out the Inbox. And you are likely to miss the one important message in there as it gets lost in the fog of junk. Many great opportunities have been deleted along with the junk mail just because the user didn't see it.

Some countries even have laws against spam but the practice continues. In fact, it's increasing. Why? The junk mailers don't care. If they only get a few "hits" they can still make money. (With the traditional junk mail from the US Post Office you would have to get at least 5% response from your messages just to break even.)

So what can you do about it?
You don't have to be a victim of the spammers. The top three things you can do are:

1, Protect your email address
Spammers either buy lists of e-mail addresses or use software programs that mine the addresses from the Internet. If your address is posted in discussion groups, websites, chat rooms, blogs, social networking sites, etc., the chances are that it will end up on one or more of these lists. Only post your address publicly when absolutely necessary.

If you have to post your address publicly one trick you can uses to fool the mining software by writing it like this: ken(at)dubrovin.com. People who want to e-mail you to can replace (at) with the @ symbol. That is pretty obvious to a human but most of the mining software is looking for the @ symbol.

Do NOT respond to the junk mail. Most spam messages have an "unsubscribe link. Don't use it! That just confirms that this is a valid address and you are likely to get even more spam. Just use the delete key. Never open attachments or click on links from unknown senders. Spam messages with zip files attached are almost always a poison pill.