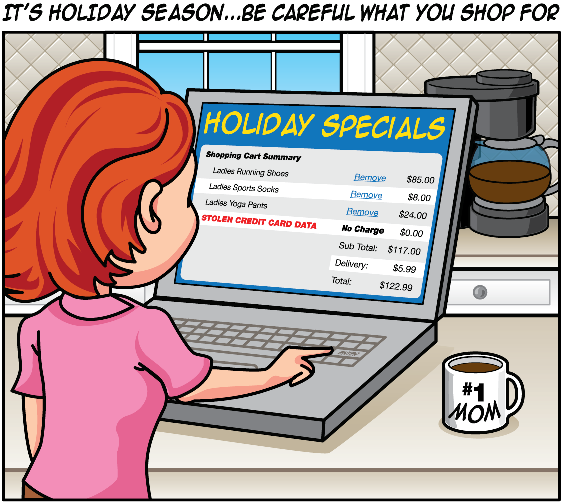 December is a time for Family, Friends, Feasting, Happiness and Hackers!
It is that time of year again, the holiday season and most people are involved with family, friends, travel, gifts and the general good will that goes along with celebrations. However some people are hard at work, the hackers. These identity thieves are hoping that you let your guard down and give them a chance to get your credit card info or access to your bank account.
Now more that ever it is important to remain vigilant whenever and wherever you are conducting transactions, especially during the holidays. Criminals are out and about in force during the holidays and they have many "New" and "Improved" methods that they are just itching to try out. Don't fall prey to these scams
Letters to Santa:
Be careful not to put too much personal information in your letters to Santa. Thieves will try to use that information against you. Santa knows who you are. He's keeping a list, remember and checking it twice.
Fake Delivery Service Invoices:
Thieves send fake delivery invoices that look like they came from UPS, Fed Ex or the USPS. They require you to give credit card info or open custom forms so you can receive your package. Hover over the link before clicking to see what address you are really being sent to.
Gift Card Fraud:
Gift cards are a popular method of gift giving. For that person on your list who you just don't know what to get them. Thieves can scan and copy the information of unloaded cards on display. Then they wait until consumers add money and activate the card. While in the stores ask the cashier to scan the card to make sure it has the right value.
Fake Charities:
This is the season of giving and that means more charities are out asking for money. If you get a call or and email from a charity asking for a donation make sure they are a legitimate organization. You can check with the BBB or online at www.guidestar.org
Phishing Schemes:
You may get an unsolicited email from a sender masked as a well known brand. Usually they are offering deals that are just too good to be true. Again hover over the link. If you don't recognize the address don't click the link.
E-cards:
While sending holiday E-cards to people can be a great way to stay in touch with your on-line friends and relatives thieves love to take advantage of this. PowerPoint attachments with a holiday theme are very popular with cyber criminals. Beware of attachments, if the link points to someplace you don't know when you hover over it don't click the link.
Check Your Accounts:
Check your bank and credit card accounts more frequently, (even daily) to see if any suspicious items have been charged. Many accounts have fraud protection that will notify you of suspicious activity on your account. In some cases the protection may even prevent a purchase because of dubious activity. If you do notice any unauthorized or suspicious charges on your account don't wait, report it immediately to your financial institution.
Go back to the top
---