Music:
Few things in life are as enjoyable as listening to good music. But as you have probably noticed the music only sounds as good as the system it's playing on. Most PCs and Macs come with pathetic speakers and laptops with those tiny little drivers are almost painful to endure. Even if you are on a tight budget some low cost speakers can greatly improve your listen experience.
As with the streaming equipment in the previous segment the sky is the limit when it comes to PC speaker systems. Here are a few things to consider when looking for computer speakers.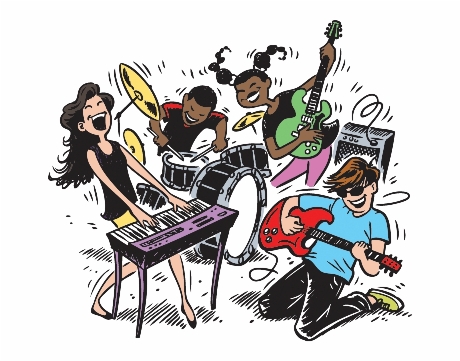 Stereo, 2.1 or surround sound: Which is best? Stereo speakers consist of just a pair of speakers, one for left and one for right. The 2.1 systems add a sub woofer to that for extra deep bass sound, (usually below 1KHz). This can add a kick to video explosions, bass guitars, drums and so on. However some two speaker systems do quite well due to their built-in woofers.
Serious gamers and audiophiles may want to step up to the 5.1, (or higher) surround sound systems. This combined with the high performance streaming equipment discussed in the first section can turn your living room into a home theater. Be warned now that if you live in an apartment, townhome, duplex or other multi unit dwelling some of these systems could cause loss of lease. If you have it cranked up at two in the morning your neighbors will be listening to good music whether they like it or not, (and probably not).
In most cases you will probably want to get powered speakers. They come with their own amplifier so you don't have to worry about matching the amp and speakers. Unpowered or "passive" speaker systems will delight people who know how to set up a high end sound system and frustrate everyone else.
Many speaker systems feature Bluetooth connectivity. Some are even waterproof and have rechargeable batteries making them portable while still delivering very good sound quality. You might be surprised by the great sound coming from your Smartphone. Now you can get ready for your next "pool party"!
Here are some comparisons of popular PC speakers from Tech Radar.
Here are a few terms you may need to know when looking for speakers:
What is a Watt? A watt is a unit of work energy. In the audio world it is used to measure the power handling of speakers and the output capabilities of amplifiers. In the electronics world amps multiplied by volts equal watts, (10 amps at 120 volts equal 1200 watts).
Sound Pressure Level (SPL) is the acoustic value of a sound. Remember that what we humans perceive as sound is just varying pressure waves coming in contact with our ear drums. SPL is measured in decibels. A change of one decibel is generally regarded as the smallest volume change that human ear can detect. Since decibels are logarithmic doubling the power, (wattage) results in a +3dB increase which is quite noticeable. Going from 50dB to 100dB requires much more than just doubling the wattage since each 3dB increase requires doubling the power.
More wattage doesn't necessarily mean more volume. While wattage is a significant factor you also need to consider the speakers sensitivity. That doesn't mean you have to worry about the speakers emotional state rather speaker sensitivity is a measure of how efficiently the speaker converts electrical energy into sound. Normally expressed in decibels it describes the SPL that a speaker can produce from a one watt signal at a distance of one meter. So a 500 watt speaker with a sensitivity of 98dB will have the same volume as a 1000 watt speaker with a sensitivity of 95dB.
Also watch out for deceptive advertising of speakers. There are two ways that speakers are rated. In most cases speakers are rated as RMS, (root mean squared) which refers to the amount of wattage the speaker can handle on a continuous basis. The peak value is the amount of wattage the speaker can handle for short bursts. Some advertises only show the peak power rating. While that makes for some impressive numbers but the speaker will not last long if it is actually operating at that level.