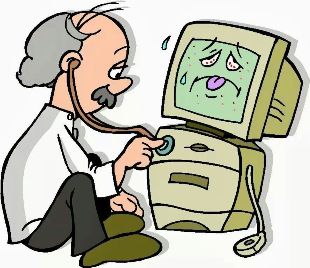 For External Keyboards:
Unplug the keyboard, (or switch it off if it is wireless). Turn the keyboard upside down and shake loose any lose debris. Wipe the keyboard down with a damp soft cloth. Isopropyl alcohol is a good choice for the stuff that water won't get. Don't pour or spray the keyboard directly. Apply the liquid to the cloth and the wipe things down. Q-Tips can be very handy to get into some of the tight spots.
For Laptop Keyboards:
Power off the laptop and unplug any USB devices and power adapters and turn it upside down and gently tap the bottom to loosen the debris. After that set the laptop in the normal position and proceed to clean it like the external keyboard.
Update Your Passwords
Changing your password should be done every few months. Stolen or hacked passwords are one of the most common means of entry for cyber thieves. Hera are some tips for generating strong passwords:
Use at least eight characters, (more is better).
Use upper-case and lower-case letters
Use numbers and special symbols
Pass phrases are a good way to generate strong passwords
Purge Junk Files
One way to tell the age of a computer is by the number of unused files hanging out on the hard drive. Unused programs, old copies of your resume and old junk files. Operating systems, particularly Windows, are very good at generating log files but they are very bad about getting rid of them when they are no longer needed. Eventually these files can build up and use a considerable amount of disk space.
Empty the Recycle Bin
Uninstall trialware and unused programs
Delete Temporary Files
Run Disk Cleanup
Clear the Cache and Cookies in your Internet browser(s)
Disk Cleanup is a program included with Windows that can cleanup much of the garbage on your hard drive. It doesn't show up on the basic start menu but it is buried in the operating system. Using it is not what most people would call intuitive. If you have questions about running Disk Cleanup call, (or text / email) me.
Update You Operating System
For Android, Apple, Unix or Windows updates are basic computer maintenance. Most modern operating systems automatically periodically check for updates and either inform you when an update is available or run the update for you. While these updates can sometimes cause unforeseen problems it is still best to run the update and then deal with the any problems. Shortly after an update is released hackers around the world know about the vulnerabilities that the update fixed. Then they go looking for the vulnerable machines that haven't been updated and prey upon them. If you do your updates, you might get screwed. If you don't do your updates, you will get screwed. There are no good choices so go for the least bad choice and if you like, keep your rabbit's foot, (or whatever good luck charm you choose) close by.