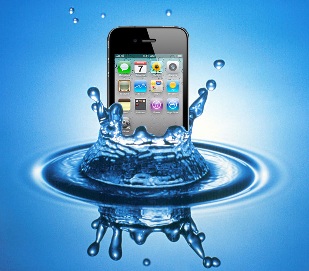 Did you introduce your Smartphone to the pool?
Or maybe the toilet, the lake or just a glass of water? While this is not recommended treatment for a Smartphone, or most electronic devices, it may not be history just yet.
What can you do? The short answer is dry it out and hope for the best. Here are a few tips that might save you from having to buy yet another phone.
Get it out of the water immediately,
Turn it OFF!
Remove any covers, plugs or sleeves down to bare phone.
Remove the battery, (if possible).
Remove any covers, SIM chips or storage devices and dry them separately.
Do NOT use a hair dryer! You could just push the water in farther. And it doesnít take much heat to damage some of these circuits. Better to put it in front of the air conditioner and give it cool dry air.
Do NOT use an air compressor.
A Q-tip can be a handy tool for drying out tight spots.
Vacuum it out
A vacuum cleaner can be a handy tool. Use the extension so you have a small opening on the hose of the vacuum cleaner and thoroughly vacuum the phone out. Take your time here. Vacuum out all the little corners, nooks and crevasses were water can get trapped. It may take ten or fifteen minutes.
Use a soft cloth or paper towel to set parts on. Gently pat dry all the parts. Do NOT place them in direct sunlight. Let them sit for twenty four hours or at least over night.
Another trick is to use a desiccant like silica gel, (Crystal Kitty Litter). Place the phone and the desiccant in a plastic bag and seal it. Leave it set over night and see if that helps. If you donít have silica gel available there are some common household items you can try:
Couscous (pearl)
Classic rolled oatmeal
Instant oatmeal
Instant rice
Uncooked rice
A cup full of your desiccant material should be sufficient. Wrap the phone loosely in a paper towel to keep the loose starch dust from mucking up your phone. Wait at least over night for the desiccant to do itís thing.
Test it!
After you have dried it back out test it! Put the parts back together and see if it works. If it doesnít work try removing the battery and test it using only the charger. If it works with the charger then you only need a new battery.
If you still canít get it to work take it to an authorized dealer. Be ďup frontĒ and tell them what has happened. Most phones have a special tag or tape that changes color when it gets wet so they will know if you are being honest. They may have resources that are unavailable to you.
New phone time!
If the phone still doesnít work after taking it to the dealer then it is time for a new phone. At least you are in the right place for that!
---